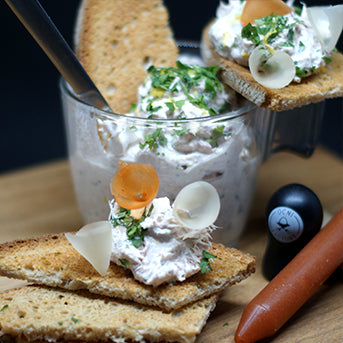 Tuna rillettes | Seasoning to cut Candied lemon and/or Jolokia pepper
For 4 people :
- 200g canned tuna
- 150gr of fresh cheese
- 3 tablespoons of lemon
- 5 sprigs of coriander
- 1 tablespoon of olive oil 
- 1 Candied Lemon and/or Jolokia Pepper Carving Seasoning


Crumble the tuna, add the cream cheese and the lemon juice.
On a cutting board, finely chop the coriander and stir in the olive oil until a paste of herbs forms.
Add this mixture to the mixture.
Salt and pepper to your taste.
Serve well chilled on toasted bread and cut a few shavings of Candied Lemon and/or Jolokia Pepper Seasoning.